8 year Old Drake Quibodeaux from Vinton, was diagnosed with a terminal brain tumor and given 9 to 12 months to live. On December 12th, it will be 9 months.
It's the Holiday Season, and the Season of giving, so a family friend took to Facebook and asked everyone to send a Christmas Card to Drake!  As you will see below, in the original story from KPLC, Drake wants to receive 190 cards!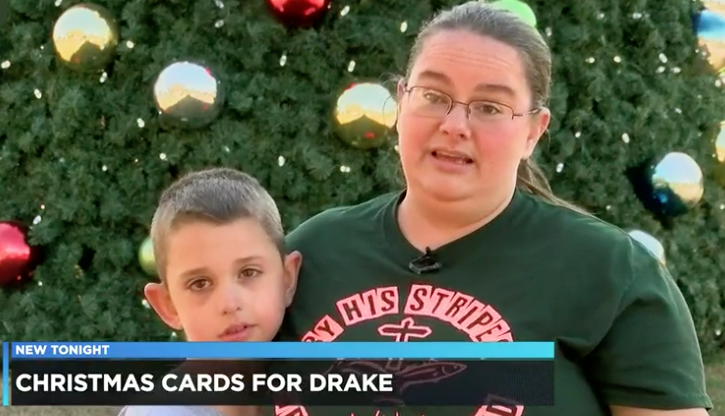 The story comes to us from KPLC in Lake Charles –
"Last week, we got the news that his tumor was growing. At the start, they give you nine to 12 months. And on the 12th of this month, it'll be nine months," Danielle Quibodeaux, Drake Quibodeaux's mom, said.
Earlier this year, now, eight-year-old Drake was diagnosed with Difuse Intrinsic Pontine Glioma, a terminal brain tumor.

"What do you want to do for Christmas?" Quibodeaux said.

"Tough," Drake said quietly. "It's tough."

"That's a tough question, he said." Quibodeaux clarified. "We have got to go see LSU football and we had a deer hunt. He killed a deer, so, I don't know what we could possibly do to top that."
So, this holiday season, a family friend decided to post on Facebook asking people to "flood his mailbox" with Christmas cards.

Drake has already gotten six cards and he's excited to get more.

"How many do you want to get? (Drake:) '190.' 190. He wants 190 cards; is his goal," Quibodeaux said. "We tape them to our front door. He just looks at them and says 'They love me so much mama.' he says. I'm like 'yes baby.'"

If you want to send Drake a Christmas card, his address is:

2412 Hwy 388, Vinton, LA, 70668.